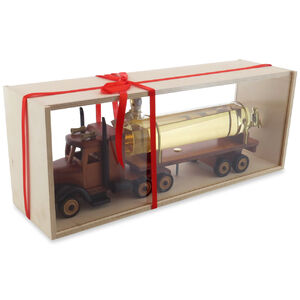 1/21/19
The male side is just as difficult for the female side when it comes to choosing a suitable gift. The characters are so different among men as well, that the challenge of a woman when she has to make such a decision is not an easy one to overcome. Haste or a classic choice could turn out to be a failure, which is not desirable.
You can successfully overcome this challenge when you know how to adopt a suitable attitude. Thus, there are a series of so-called rules that we present to you further on and to which you can refer in order to finally choose something to surprise the recipient.
You need a spirit of alert observation!
Here is a first rule that you must not ignore if you want to ensure the success of the gift. Regardless of who the recipient is - whether it's their partner, a close friend, relative, acquaintance or office colleague, it is necessary to observe the person in question when you aim to give them a truly special gift. Even from recent conversations you can deduce his preferences, maybe a certain necessity, you can even discover what are those items that he would not like. You can also lead the discussions in such a direction as to discover more about it. You will see that this way you will surprise him with emotions.
Keep in mind the current male trends
They can refer to anything - part of clothing, its accessories or, why not, the office, the home and so on. When you look at things from this angle as well, you will deduce that the list of solutions is a particularly extensive one.
In addition, you can refer with confidence to resources such as the Internet, the recommendations of those close to you, the wishes expressed indirectly by the recipient on social networks, etc. Of course, this would involve time resources on your part, but it is an effort that you will conclude is worth making.
Take into account every detail
They say that the details make the difference. So, by paying due attention to them, you have the opportunity to make gifts for men special. You can find special ideas in this sense on our website, in the category specially designed for the male part. Choose the product you prefer, or which you think fits best, add it to the basket and place the order. You have the ideal gift at your door in the shortest possible time.
You will see that you will find a suitable solution even when the man you want to pleasantly surprise seems to already have everything.
Always choose quality
Don't even think of considering an option that would target something inferior from a qualitative point of view. It is even better to limit yourself to something modest than to make a mistake in terms of quality. Whether it's about things and objects or food products, chocolate, etc., he doesn't compromise on this. Good taste will always be appreciated.
If something useful and practical caught your attention, but which you already own, don't back down from that idea. Material things deteriorate, so a reserve regarding them is more than welcome. Make sure this time too that you bet on quality.
Last but not least, consider the costs involved in such a gift. No matter how special the man in question is, there must be an attention worthy of him. Count on the idea of ​​personalization when you want to leave your mark on the gift offered.
Think of a more special way to give him the gift, so that the surprise is complete!