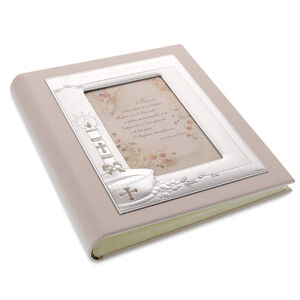 7/22/21
If you had the joy of receiving some friends on a visit to come with the baby and ask you that question of Do you want to be my godmother? You certainly did not say no and accepted with great joy. Now that the baptism is approaching, you must prepare some gifts for the little one, so that the parents can enjoy now, and the baby later when he/she grows up.
It's a really emotional moment and you probably want to give him everything he needs, especially if you can't wait for the day when your friends will have a miniature version of them, which you will love even before they are born. Here on our site you can find ideas and special gift options for your future granddaughter, which parents will surely enjoy now when she grows up and understands.
Gifts for the future finita
You can choose from a wide range of gifts from the category of children's gifts, including:
-Photo album: this is special for babies, it has a pink frame on the cover and an angel in the corner. It may be her first photo album for her parents to add pictures from her first day on earth, until her first birthday, until she completes the album. It will be a joy for the little one to see them when she grows up. You can even write a message for her on the front pages.
-First table box: this is plated with silver and has white velvet inside, being perfect for the first tooth, the first strand or the first table. This box has an angel with pink accents on the lid, matching the photo album, in case you want to give it a set.
-The icon with the holy family: it can be added to such a set, being of the same shades. It is a gift that parents can hang over the crib or put on the bedside table next to the girl, so that she is protected. A message can also be engraved on the back of the icon, so that it remains a memory from nana and nanu.
We are waiting for you on our website to discover the full range of products available.