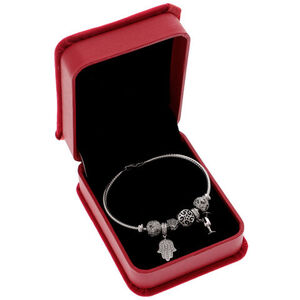 7/8/22
The first date is always a unique opportunity to make the best first impression. Regardless of whether you met online or already groped the field and know the tastes of your future partner, it is good to present yourself at the meeting with a little attention, nothing exaggerated, but with a special symbolism, so that your attention is noticed at details and, of course, the politeness that characterizes you. If you are out of ideas and do not know how you could make a gesture that is truly appreciated, on Gift Express you can find many interesting proposals and, especially, at acceptable prices, for all pockets.
Jewelry, any woman's love
It may seem a little exaggerated to give a piece of jewelry from the first meeting, but on Gift Express you will find many ideas for women's jewelry simple, which can be a symbol of a friendship at first, and not an exclusive and very pretentious gift. A minimalist bracelet or a pair of earrings that you can enjoy when matching them with your favorite dress can be truly appreciated and, especially, unforgettable gifts, because they will remain in your friend's collection for a long time. For example, a simple silver bracelet can be a suitable accessory for both casual and elegant outfits, so it would be a useful and very beautiful gift.
Cryogenic roses for lifelong memories
Cryogenic roses are fashionable and very beautiful gifts, due to the fact that they last even decades and thus remain a testimony of an important day. What would it be like for the gift you gave at the first meeting to exist in your home even after 25 years? This is what cryogenic roses do: it keeps the memory of the most beautiful moments lived together, so it is an ideal gift for her, even on the first date.
Charm Bracelet
Talismans have always had a special symbolism and, depending on the charm you choose, can have the desired meaning: friendship, connection for life, love, etc. Precisely for this reason, when you want to make a gift that conveys a personalized message, the charm bracelet can be a very inspired choice. Depending on the style of the designer, you can opt for a more colorful bracelet or, on the contrary, for a simple one, easy to match with any outfit, at any time of the day.
Brooches for different occasions
Brooches are always a welcome gift, due to the fact that they can be easily matched to any outfit, depending on the chosen design. If you want to make a nice gift on your first date, a brooch is a choice you can't go wrong with, so you can visit the Gift Express store website to find that accessory that will impress your partner. >
Want to make an inspired gift? Enter Gift Express and unravel the multitude of gifts in stock. You will surely find a product to your partner's liking, and the first meeting will be a truly memorable one.