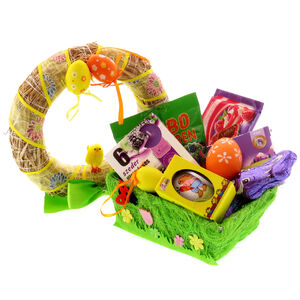 3/29/19
We know very well that an occasion such as an important holiday over the year is equivalent to an opportune moment to give a gift. It is practiced quite often and especially when you attend a festive dinner or thematic event. Such a gesture, to offer something, keeps us together, reminds us who those who sympathize with us are, connects us with people.
How you approach the Easter theme in terms of gifts is a slightly confusing story. The first thought is about prints with bunnies or about the essential chocolate. So yes, it seems harder than you thought, which is why we are welcoming you with the inspiration you need so much.
# 1 To whom do you intend to give the gift
I have therefore established the framework, but it is equally important to take into account the recipient. If one more proof were needed, the gifts chosen and considered to be perfect do not actually follow a standard set of rules. You have to adapt an idea, you have to take into account the recipient, be on topic because the object itself, your gift, will be the bearer of a symbol and story, beyond being a good material.
If it is a family member, the gift brought to the Easter dinner or Easter lunch can be a floral arrangement. If you care about the idea of ​​offering something lasting, then you can opt for decorations.
We recommend: Easter wreaths, including the version of door wreath. They can be decorated with colored eggs, specific details, with satin elements or floral prints. In two brightly colored versions, our crowns are available on the website.
#2 Gift baskets
These are always a good idea, as they are based on culinary delights, refined desserts and tailored drinks. You won't go wrong with such a gift, because:
They have multiple variants - fine drinks, sweets, sometimes decorative elements. Practically, the included products are harder to consider inappropriate.

They are elegant and rich. Because you have certainly been in the position of recipient, you know what it means to receive something that seems to be too little or to be overwhelmed by something that is too much. You start asking yourself questions about how you relate to the relationship with the one who gave you the gift. So in an elegant, appropriate way, gift baskets can be the ideal choice.

It leaves no room for interpretation. If you have to make this gesture of giving a gift to a boss, colleague, superior or collaborator, you are in the position of not exaggerating with a gift, of not leaving room for interpretation. Again, gift baskets claim their right to be appropriate.
#3 What budget do you have
Like it or not, everything is still swarming around the budget. If you make a list of those you want to surprise with a gift, you realize that you need a considerable budget. I have prepared for you a selection of gifts of this kind that respect the principle of variety. You will find in our collection gift baskets suitable for more generous budgets and not too much.
Don't forget the special offers section, where you will find significant discounts.
# 4 Atypical versus classic
In this whole story, in the end, it matters if you align yourself with those who offer classic, thematic or atypical gifts. If you are the type who wants to surprise with anything other than Easter prints, here are some other ideas:
Plants in pots, as it is spring, the perfect season for gardening. The cryogenated roses are also not to be omitted, which promise an impeccable appearance and durable. It is perhaps one of the most elegant types of gift.

Wine bottles, with thematic support. They can be customized, with engraved or painted text. They are special by their very form. Here here is an example of the offer.
What ideas do you think apply to those you intend to give an Easter gift to?