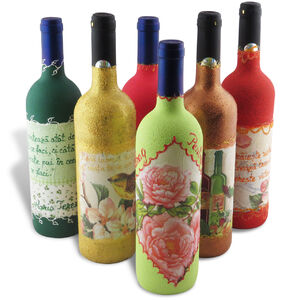 7/26/14
Today, special gifts are very hard to choose. The market is full of mediocre products that have no sentimental value. To avoid the trap of these mundane gifts, choose to make personalized gifts. These have the advantage of having something unique, special, specially created for the recipient's taste and character.
One such gift is the personalized bottle, accompanied by glasses. These bottles are decorated and painted by hand, carrying the message of your choice. The drink can be chosen depending on the occasion and the tastes of the beneficiary. We can choose a semi-sweet red wine, a quality dry white wine, if it is a birthday or name day. If a more important event is coming up, such as an anniversary or a wedding, we can opt for a bottle of champagne.
After choosing the drink bottle, the choice of model follows. These can be very varied, flowers, leaves or butterflies if it is a gift for women, stars, undefined shapes or landscape if it is a gift for men.
The next step is choosing the shade. We can opt for pastel colors, intense colors, or glossy ones, such as gold, silver or bronze.
Now comes the most important step: choosing the message. This can be simple and to the point, like "For the best boss!", it can be a wish "An ocean of health, A mountain of luck, A truck with money and a sincere Happy Birthday!", or maybe be a much more personal one "For our dear godparents. Thank you for being with us and supporting us every step of the way. We love you very much!". No matter what style of message you choose, the impact will be strong, because it will be specially dedicated.
The painted and personalized glass with a message can be accompanied by two glasses painted in the same tone, to form a complete gift. They will be placed in a gorgeous satin-lined gift box. The gift box will be one with a lid, tied with a ribbon, to obtain a unique gift, which will remain a memory and which will mark the event as an unforgettable one.