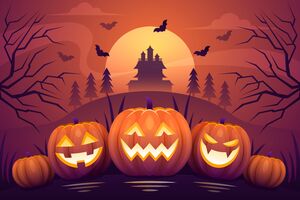 10/24/22
Holidays and traditions play an essential role among any country, especially in terms of preserving and shaping culture. As for Halloween, it is most often celebrated in the United States of America. However, lately, traditions and customs have begun to be taken over and integrated into the culture of other European states, including our country. Halloween is a holiday celebrated on the evening of October 31, with specific rituals and customs. Stay with us and discover three accepted customs about this holiday that you should know and apply this year!
1. Carved and lighted pumpkins
By far one of the most common Halloween traditions boils down to carving pumpkins and lighting them. They are generally used to decorate homes and gardens, as well as for dressing up as characters in horror stories. Afterwards, every child who wears such a costume and gets to go caroling from one house to another receives candies and sweets, which brings a smile to his face.
2. Sweets prepared for the celebration of Halloween
There is quite a debate about the best Halloween candy. While some people prefer to buy them directly prepared, others want to try to prepare them at home, in the heart of the kitchen. We are talking here about glazed apples, which are the most common in Great Britain and Ireland. Also in this category is the Barmbrack cake, which is light and has lots of fruit. Last but not least, the pumpkin pie is very popular, along with the delicious bread made with the same ingredient.
3. Preparation of appropriate costumes
If you are preparing for a Halloween party, it is important to mention that you will need a costume as scary as possible. At the present time, even if preferences differ, our recommendation for you is that the suit you are going to wear is very close to the real one. In other words, if you want to embody a certain character, in addition to the personality you have to embody, you will need an optimal costume, in accordance with the character you want to play. In addition, don't forget to take a look at Cadouri Gift Express - Online gifts for everyone, as it is possible to find some of the most good options in terms of gifts to give your loved ones on the occasion of Halloween.
With all these Halloween tips, recommendations and customs at your disposal, it will be much easier for you to get into character and prepare for this holiday celebrated around the world. Even if, in the beginning, we did not find the notion of Halloween in our country, its popularity has also expanded to Europe, which means that we will be able to enjoy the results of this! From now on, you'll be ready on time with all your Halloween costume and candy must-haves!
Image by pikisuperstar on Freepik