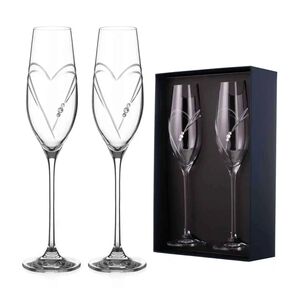 11/6/22
The events we spend with our loved ones are extremely memorable, as they help us build memories that we will remember fondly over time. This category also includes weddings, respectively these events that celebrate love and affection, as well as a new stage in the couple's life. However, as a guest, there are some responsibilities that are very good to keep in mind. In addition to the characteristic wardrobe that we have to build for the wedding, including the behavior that we have plays an essential role. Also, the wedding gift is an imperative element that will come to the aid of the couple at the beginning of the journey. In order to help you, we have thought of several types of wedding gifts that we would like to share with you!
A set of crystal glasses
When you want to give a memorable gift at a wedding, our recommendation for you is to opt for a set of crystal glasses. Additionally, you can opt for a crystal whiskey bottle to complete this set and fit perfectly into the couple's home. The crystal has a very high durability and manages to preserve the flavor of the drinks for a much longer period of time. Even if the price of the crystal is a bit higher, it lends itself to a wedding gift and is suitable regardless of its nature. If you are looking for the most beautiful set of this kind, on https://www.giftexpress.ro/cadouri-nunta< /a> you find unique models!
A holy icon
Nothing compares to the luck and wealth, along with the good thoughts, that we want to share with those who are about to get married. The best way to express such feelings is to give a holy icon as a wedding gift. They can be framed in silver or gold, as well as have some precious metals, which will manage to build a wedding gift that will have no comparison period. Our recommendation for you is to orient yourself according to the size of the icon you want to purchase for the couple, because the models differ especially in terms of their price.
A cryogenic rose
Also in the category of types of gifts that you can give at a wedding, a cryogenic rose is also included. The way it is obtained is extremely interesting and painstaking, which is why this gift is unique and manages to give a pleasant feeling to any couple. Unlike ordinary roses, the cryogenated one stands out due to the fact that it is chosen very carefully before going through the cryogenization process. Only those roses that look flawless will be selected for this process, as their appearance must be free of any blemish. As a result, cryogenic roses have a life span that can span up to 20 years. Thus, the couple will have the opportunity to enjoy a wedding gift that they will look back on throughout their lives.
Opt for some of the most beautiful wedding gifts to give the bride and groom so they can have everything they want!